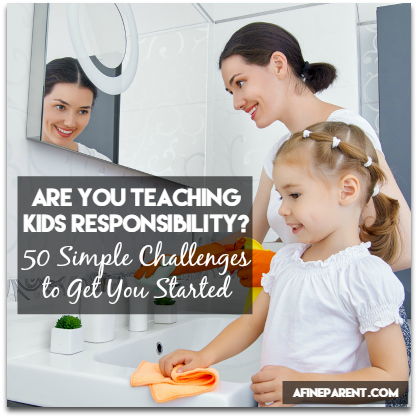 How capable are your kids?
I'm not talking about their math ability or how well they throw a baseball.
Can they operate a vacuum cleaner? Cook a meal? Lodge a complaint? Change a light bulb?
Many kids today live a life of entitlement. Very little is asked of them in terms of responsibilities at home.
I know, at least in my house, this is mainly due to parental laziness. It's much easier to do a job myself, especially if I want it done right (interpretation – the way I think it should be done).
I get tired of nagging, demanding, and threatening. Consequently, instead of teaching kids responsibility, I accept half-hearted efforts because, well, at least they did something.
To be the positive parent you've always wanted to be,
click here
to get our FREE mini-course
How to Be a Positive Parent
.
My kids have very few responsibilities in the real scheme of things, yet they claim that kids at other houses aren't enslaved as they are in our home. Hmmm…
Raising a Generation of Entitled Kids
In her book, Cleaning House: A Mom's Twelve-Month Experiment to Rid Her Home of Youth Entitlement
, Kay Wills Wyma cites the frequency of young adults who quit jobs because they don't like them and throw away educations because they've changed their minds.
28% of 22-29 year olds rely on money from their parents to fund major expenses. They move home and freeload expecting their parents to take care of them. They don't feel responsible for paying the bills, especially if it means taking a job that is hard and doesn't pay well. In 1970 80% of American women left home by age 24, by 2007 that number had risen to age 29.
Wyma asks — Why should they? Isn't the world here to serve them? Aren't they entitled to a strife-free happy life?
She makes a point. I know my own kids are indignant when I ask them to do a chore not on their assigned list.
But Wyma takes the argument another step.