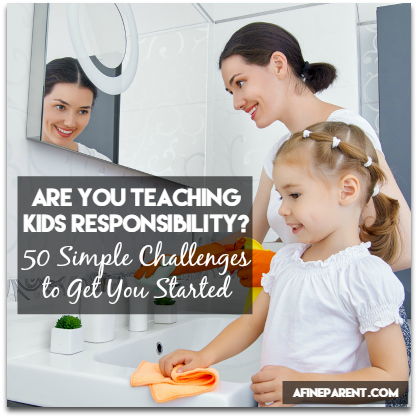 How capable are your kids?
I'm not talking about their math ability or how well they throw a baseball.
Can they operate a vacuum cleaner? Cook a meal? Lodge a complaint? Change a light bulb?
Many kids today live a life of entitlement. Very little is asked of them in terms of responsibilities at home.
I know, at least in my house, this is mainly due to parental laziness. It's much easier to do a job myself, especially if I want it done right (interpretation – the way I think it should be done).
I get tired of nagging, demanding, and threatening. Consequently, instead of teaching kids responsibility, I accept half-hearted efforts because, well, at least they did something.
To be the positive parent you've always wanted to be,
click here
to get our FREE mini-course
How to Be a Positive Parent
.
My kids have very few responsibilities in the real scheme of things, yet they claim that kids at other houses aren't enslaved as they are in our home. Hmmm…
Raising a Generation of Entitled Kids
In her book, Cleaning House: A Mom's Twelve-Month Experiment to Rid Her Home of Youth Entitlement
, Kay Wills Wyma cites the frequency of young adults who quit jobs because they don't like them and throw away educations because they've changed their minds.
28% of 22-29 year olds rely on money from their parents to fund major expenses. They move home and freeload expecting their parents to take care of them. They don't feel responsible for paying the bills, especially if it means taking a job that is hard and doesn't pay well. In 1970 80% of American women left home by age 24, by 2007 that number had risen to age 29.
Wyma asks — Why should they? Isn't the world here to serve them? Aren't they entitled to a strife-free happy life?
She makes a point. I know my own kids are indignant when I ask them to do a chore not on their assigned list.
But Wyma takes the argument another step.
She says that when we do the work and problem solve for our kids, essentially we're saying they aren't capable of doing it themselves.
When their rooms get beyond messy, we barge in and clean-up for them, sending the message that they can't do it themselves.
When we do all the laundry, housework, and cooking, we continue to assert that they're not capable of doing their part.
We treat them like long-term guests in our homes.
When they spill something and shed tears of frustration or embarrassment, we rush in to rescue, teaching them that they aren't responsible for cleaning up their own messes.
And when a homework project overwhelms and they're exhausted after practice, we offer our assistance, instead of allowing them to learn that sometimes life is hard and you have to deal with it.
Turning the Ship Around
We can begin raising responsible, capable adults much sooner than you'd think.
There's no need to wait until they can argue with us to get the ball rolling. Giving kids responsibility for their actions, their belongings, and their home helps combat the prolific creep of entitlement so evident in much of today's society.
Television shows marketed towards kids are full of examples of rich, beautiful, clever children. They don't do dishes. They don't pack their own lunch. Heck, many of these tv personalities have hired help for those tasks. Gone are the days of the Waltons when John-Boy could be observed sweeping up.
In her online paper, "Practice What You Preach: Raising Responsible Versus Entitled Children", Marsha B Sauls, PhD, speaks of parenting for responsibility as the flip side of parenting for entitlement.
When we hold our children accountable for their actions, even if it means an uncomfortable, even painful, interaction with them, we are raising responsible children.
I know firsthand, how difficult this can be especially with a strong-willed (and confidently vocal) daughter! It's a lesson I seem to need to learn repeatedly.
It began with our first emotional tug of war when I asked her at age five to tidy up her room and continues today at fifteen.
My heart broke the first time she yelled – "You are so mean! I hate you!" in response to my request that she hang up her towel.
It would be much easier to avoid these battles, and I admit there are days when I take a pass, but I love my kids enough to continue the effort knowing the world needs more responsible people and fewer entitled ones.
So how do we raise responsible rather than entitled children?
It takes an intentional effort on our part as parents.
Want to hear more about how we can set up opportunities for our kids to learn more responsibility? We partnered with Dr. Deborah Gilboa, industry-leading speaker, author, influencer, media personality and mom of four boys, to discuss key challenges parents most often face when trying to teach responsibility and the concrete strategies that work.
This packed masterclass is one of the 60+ masterclasses you get when you join the AFineParent Academy today. Click here to learn more.
Change May Seem Hard, But We Can Do it
Eight years ago, when my son Ian was four years old, he lost all of his hair over the course of one month to an autoimmune disorder called alopecia areata. There was no magic drug I could give my child for this disease that still has no known cause or cure.
My heart broke for all the ways his life would be different with no hair (not even eye lashes or eye brows).
There was no way for me to "fix" this situation, but I could create the healthiest possible environment for Ian and maybe, I thought, his body could heal itself.
At first it seemed overwhelming, but by making small daily changes I soon discovered those little things added up to big change. Our entire family grew steadily healthier, and as a consequence happier.
I began applying this same idea to other areas of our life, especially parenting.
It's a big job, but when you are intentional about the small things, big change is possible.
In my book, Live Intentionally: 65 Challenges for a Healthier, Happier Life
, I pose specific challenges to help parents begin new habits and try new ideas. I'm enamored with challenges because I believe they motivate us for change.
In that same spirit, here are 50 simple challenges you can use to begin teaching kids responsibility at any age.
Age Appropriate Chores/Tasks for Toddlers
Turn off lights when he/she leaves her room (this may require that a step stool be temporarily put in place).
Hang up towel after a bath. (Use a hook rather than a bar to make this easier.)
Put toys away when finished. (Provide plenty of bins and easy to access storage.)
Say thank you to teachers, doctors, babysitters, waiters, even the mailman every time you encounter them.
Carry dishes to counter after eating. (Take it one step further and have your child put his/her utensils in the dishwasher.)
When a spill occurs, instead of swooping in, hand your child a towel and help him wipe up his/her own mess.
Age Appropriate Chores/Tasks for Preschoolers
Set the table.
Wipe out sink after brushing teeth.
Turn off all the lights in house when family is leaving the house.
Feed a pet.
Tidy up his/her room.
Dust a room.
Open and hold the door for others.
Age Appropriate Chores/Tasks for Kids Age 6-11
Wash windows and mirrors (use vinegar diluted in water for safety).
Carry clothing to laundry room and sort. Put away clothing after it is clean.
Answer the phone politely and take a message.
Load dishwasher.
Walk the dog and/or clean out the litter box.
Vacuum a room.
Organize his/her closet.
Help make dinner (older kids can graduate to doing this on their own).
Pack own lunch and make own breakfast
Accompany parent into the voting booth to observe the process.
Help purchase/create thank you gifts for teachers, babysitter, etc.
Do something nice for someone who is experiencing sickness or loss.
Clean out the back seat of car.
Use phone to call grandparents, friends, etc.
Order for herself/himself at restaurants.
Have own library card and be responsible for late fees.
When a need arises while shopping, ask an employee for help.
Age Appropriate Chores/Tasks for Kids Ages 12+
Devise a schedule and test smoke detectors four times a year
Organize a thank you gift for a coach, teacher, etc.
Paint bedroom and rearrange furniture.
Plant own garden. (Even if it's only a pot or window box!)
Create invitations/plan a party.
Plan and make dinner once a month (or once a week!).
Choose a charity and designate a portion of allowance to that charity.
Mop a floor.
When unhappy with a product or service, register a complaint.
Create a "Day in the Life" video of your family. (Makes a great holiday gift!)
Sew on a button.
Write a real letter to a relative or elected official.
Figure out the correct tip when eating out.
Create a budget for holiday shopping.
Wash the car and fill the tank with gas.
Order a home-delivered meal and pay (and tip) the delivery person.
Volunteer at a soup kitchen or food bank.
Clean the toilet each week.
When light bulb burns out, replace.
A few years ago on Back-To-School Night, we listened eagerly as a teacher with a reputation for being the toughest teacher in the middle school explained her philosophy. We had heard kids came away from her class better students more than prepared for high school.
"I set the bar very high," she said. "It may even seem too high, but over the years I've found that we underestimate our kids. Wherever I set the bar – kids will reach for it and most will make it. If I set the bar at a reasonable height – they will meet that, too, but then we'll never know what they were really capable of doing."
Some of these challenges may seem like too much for your children. Challenge them to master these tasks, anyway.
I am quite certain they will surprise you and maybe even themselves.
Love this article? Receive others just like it once per week directly in your mailbox.
Click here
to join us… we'll even get you started with our FREE mini-course
How to Be a Positive Parent
.
The 2-Minute Action Plan for Fine Parents
Pull out a sheet of paper or start a new note on your phone.
List the abilities and qualities you hope your children will have by the time they are eighteen.
Back track from that point and begin thinking of chores and responsibilities you can give your children now which will help them attain those abilities and qualities before they leave home.
Instead of thinking in terms of what they can't do, begin to see them as the capable human beings they are and discover what they can do.
The Ongoing Action Plan for Fine Parents
Be intentional about promoting your children's independence. Look for teachable moments.
When the food arrives and there's unwanted mayonnaise on your son's cheeseburger, let him explain the problem to the waiter (or eat the burger as is!). If your daughter is unhappy about a grade or an assignment, let her talk to the teacher about it before you become involved. Learning to speak up for yourself is a critical life skill. Children can begin learning this skill as soon as they can talk.
A sense of gratitude is directly related to happiness. Intentionally cultivate gratitude by commenting frequently on your own and your child's blessings. Model saying thank you and giving thank you gifts. Instead of writing the end-of-year thank you note, have your child do it. If he is too young, have him dictate to you what to say in a note to accompany a picture he has drawn.
Think through the responsibilities your children have in your home now. Is your 11-year-old still doing the same jobs she had when she was eight? Determine if your children are capable of doing more and set the bar high.
Talk to them about why they are being given new responsibilities- They are important contributors to your home. They are more mature now. They need these skills for the day when they have their own homes. Help them see beyond the grind of clearing their dishes or hanging up their towels and relate it to the future when they have roommates, bosses, even children of their own.
When a household problem occurs – a toilet overflowing, a broken glass vase, the cable is out, the food processor blows the circuit – involve your children in the solution. Maybe they're too young to handle broken glass, but you can talk to them about the importance of finding every shard so that no one gets hurt and teach them the trick of shining a flashlight on the surface to spot fragments you might have missed. Show them where the circuit breaker box is and how you can tell if a circuit has flipped. Allow them to be part of the solution.
Here's the bottom line for all of us fine parents: If we are intentional in our parenting, our kids have a better shot at growing up confident in their own ability to take care of themselves. Isn't that what we really want for them?