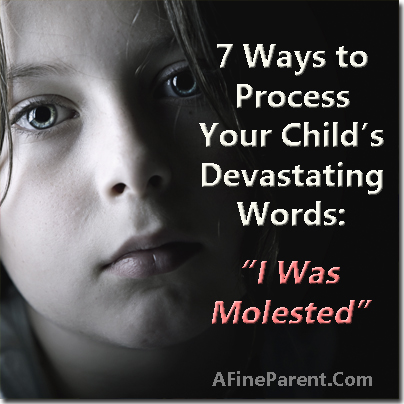 While on a long-distance call with my adult daughter, our conversation came to a screeching halt when I heard the words "I was molested."
I couldn't believe what I'd heard and I didn't want to ask her to repeat it. I had no words. Then after a few seconds, my daughter asked, "Mom, are you there?"
So many questions were going through my mind. How did this happen? When could this have happened? Who was it? Why didn't I know or see any signs?
And more crushing was the fact that it was too late for me to do anything about it.
I thought I had been careful in raising her, and I found it hard to believe that this tragedy could possibly have happened. But, unbeknownst to me, my child had been robbed of her childhood. A door of sexuality had been opened too early. As a little girl, she saw and experienced what she should not have.
I began to imagine what she might have gone through mentally and emotionally. We were a faith-based family who believed and taught that sex was reserved for marriage. We believed that complying with certain faith-based principles was a pathway to success, peace and blessings.
Yet, this happened.
How did this slip through the cracks? What had I done wrong? Why was this allowed to happen? Before I could open my mouth to respond, my daughter asked me if I would read the first chapter of her book, which gave an account of her first experience being molested.
To be the positive parent you've always wanted to be,
click here
to get our FREE mini-course
How to Be a Positive Parent
.
After reading her account in her book, Shhh…It's a Secret, I was numb. My heart was sick, and I felt bewildered.
But in retrospect, the process of healing had begun. As my daughter continued to feel safe, she shared with me more of the story. There were other violators, she said. Some of the people I knew, and many I didn't know. I could hardly believe what I was hearing and how much of a difficult journey she had experienced without my knowledge.
While everyone may not rely on faith, without it, I would have felt continual confusion, anger and guilt. I am able to focus on healing and hope for my daughter and myself with faith as my support. For you, the place you draw strength from may be different — maybe a trusted friend, a regular journaling practice, reaching out to a professional therapist to help you and your family or something else that helps you comfort and heal. Making these connections and finding these sources of strength are important.
Here are seven steps that helped me and may be helpful to you in ensuring that the abuse stops, your child is safe, you act in a way that is supportive to your child and you take care of yourself during this process.
1. Hear Them Out
In the moment of sharing, let your child say all that he or she needs to say without interruption or judgment. Healing needs to take place for both you and your child, even if their healing process has already started.
Give your son or daughter eye contact and be aware of your body language. Show open relaxed arms (crossed arms are a classic gesture of defensiveness and an indication of uneasiness or insecurity) to reassure your child that you are open to listening and that you are giving them your undivided care.
2. Be Aware of the Sensitivity of the Moment
By the time your child comes to you with this news — especially if they are adults or young adults — they may have already processed much of their pain. They may have even forgiven their violator(s).
The situation with younger children may be different, as they will require a different kind of sensitivity, patience and understanding of their healing process. If a child is disclosing something that is happening currently, they may feel uncomfortable, embarrassed or overwhelmed with guilt, all of which is perfectly normal.
It is important that you take immediate action to make sure they are safe. Two of the best ways to safeguard your child are 1) to go with your instincts that tell you something is not right and 2) have difficult but age-appropriate conversations that take into consideration your child's fragility.
No matter what age your child or where your child is in their healing journey, it is important for you to be aware that your child may still be in a sensitive place. Talking with you might cause them to revisit old wounds and it may even open new wounds that need processing and healing.
3. Forgive Yourself
Let yourself sit in the emotions fully. It is natural to feel guilty, angry or even vengeful.
I've learned it's also normal to feel a strong sense of needing to make what was wrong, right, even if you are learning this information 20 years after the fact, as I did. However, covering your heart and mind with grief, anger and unforgiveness doesn't help the healing process.
I encourage you to seek the help of a counselor.
There are also health benefits when we forgive. Research has found that harboring unforgiveness is the primary cause of a low immune system and mental health problems, and that unforgiveness is linked to mental health issues such as anxiety, depression and major psychiatric disorders.
Stress relief is likely the chief factor connecting forgiveness and well-being. Forgiving and releasing anger relaxes our muscles: we're less anxious, we have more energy and our immune system is strengthened.
4. Show Empathy
When your heart is ready, express to your son or daughter that you are genuinely sorry for what they experienced.
Let them know that you are so sorry that you were not there to save them from that experience. Assure them that they are loved and there is nothing that can change that. Let them respond, be silent, and allow a new bonding to take place in that instant.
5. Transform Your Mind
The guilt tells you that you must have been a bad parent for this to have happened.
I'm here to tell you that you are not a terrible parent because you didn't detect or suspect that your child was being violated. Replace your guilty thoughts that replay negative messages about how you didn't pay attention to the signs that may have been there, to positive thoughts that begin to play messages that say, "I'm here now and I will be present through the process of healing."
Surrender the quest of your mind that wanders in the land of Why did this happen? or Why didn't my child tell me sooner? or Did the violator threaten my child to remain silent? Your focus needs to stay on how you and your child can move forward without wallowing in guilt or negative emotions.
6. Dealing with Triggers
Going forward, your child may encounter situations that will bring back memories of their abuse.
During those times, they may suddenly start talking about what happened when you least expect it. They may even share new information, and that may continue to happen for the rest of their life.
Never respond with, "You haven't gotten over that stuff yet?" or "I thought all that would have been behind you by now."
They may still need healing, and they will always need a safe place to process or verbalize their emotions and feelings without judgment. Be that safe place for them.
7. Establishing a New Bond
The process of building a new bond with your child – who just told you that they experienced sexual trauma – may go on for a lifetime. You may experience progress and then feel, at times, that you're going a few steps backwards.
In the beginning I tread lightly, feeling that I might say or do something that was insensitive to my child's experience. Then as time went on, there was an openness that was freeing for us both.
My hope is that eventually you and your child will be so comfortable together that, at times, you will forget the abuse ever happened.
Keep in mind your child may develop an empathy toward their violator. Yet perpetrators may cause a defensive anger to rise up in you – toward them. Those are times when you need to focus on allowing your child to express what he or she is feeling while you express your feelings with a counselor or therapist.
I encourage you to work at building a new relationship with your child by continuing to be attentive and always reassuring them of your love. It is also important to be open to seeing a new perspective through the conflicts and difficult topics, which will help in establishing a new bond.
It may take years for you and your child to heal from the pain of sexual abuse, and that's okay. Give yourself space when needed and keep loving your child unconditionally.
Love this article? Receive others just like it once per week directly in your mailbox.
Click here
to join us… we'll even get you started with our FREE mini-course
How to Be a Positive Parent
.
The 2-Minute Action Plan for Fine Parents
Here are a few questions to think about:
Does your child need therapy? Don't feel bad about not being able to give your child that level of care. Breakthrough and healing are the goal.
Do you need therapy? Don't feel that you must work through your emotions and healing process alone. The goal is emotional wellness.
Have you had a family meeting? Your immediate family needs to know how to go forward. Everyone needs to understand how to help reprogram your child's self-talk so they feel safe, comfortable and supported.
The Ongoing Action Plan for Fine Parents
Trust your gut feelings. If something deep inside you says something is not right about your child or a situation, trust it.
Find out as much information as you can to learn about what a child goes through when they have been infringed upon.
Journaling is a good source for you as well as for your child to relish having a private space where you can let it all out. Start the journey of journaling here.